WHAT IS ALEKS PLACEMENT, PREPARATION AND LEARNING (ALEKS PPL)?
ALEKS Placement, Preparation and Learning (ALEKS PPL) offers colleges & universities a complete solution for math placement and course preparedness. Combining a research-based, accurate placement assessment with personalized learning tools to help students refresh on lost knowledge, ALEKS PPL gives students the opportunity to succeed before they even begin class.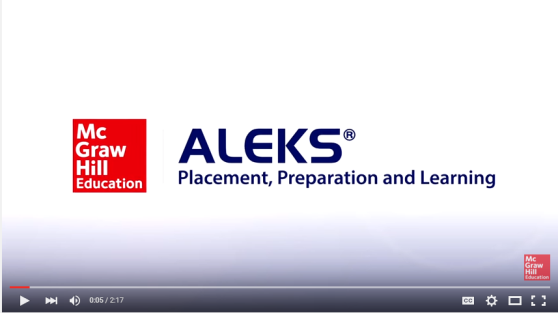 THE KEY COMPONENTS THAT MAKE ALEKS PPL UNIQUE:
Artificial intelligence efficiently assesses course readiness
Open-response, adaptive assessment covers 314 topics in 30 questions or less
Places students from Basic Math up to Calculus I in single assessment
Seamless transition from placement assessment(s) to individualized Prep and Learning Modules
Six months access to Prep and Learning Modules to refresh their knowledge, and 12 months to take up to four additional assessments to improve their course placement
Mastery-based learning motivates students to achieve higher placement results
Online flexibility allows for on- and off-campus testing and simple implementation
Want to speak to your Strategic Placement Consultant? Contact us or click here.